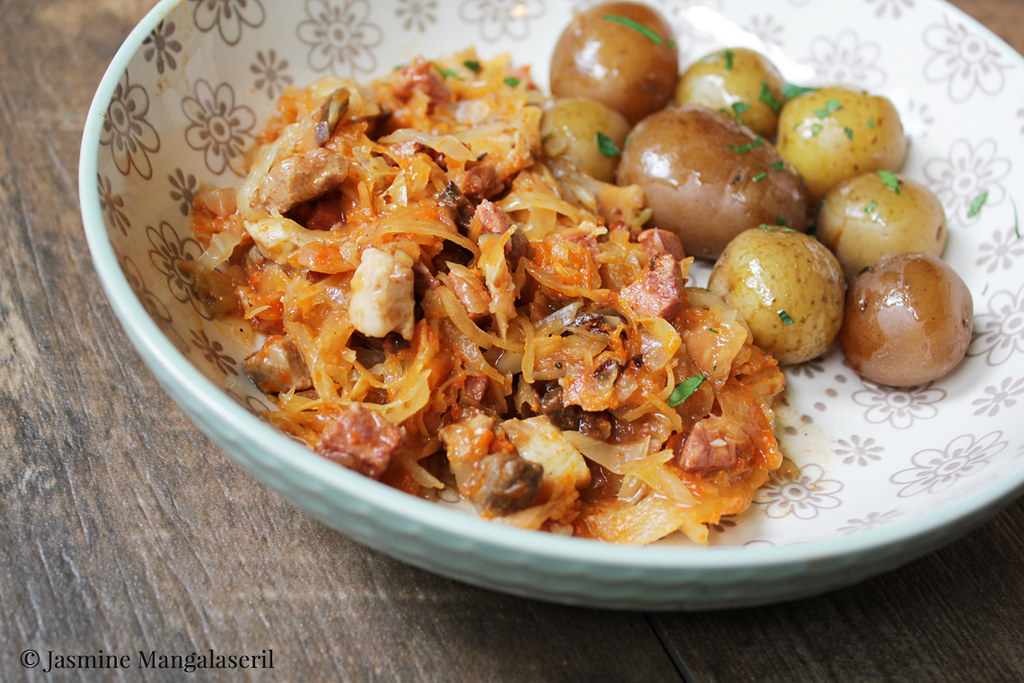 Keeping Polish heritage on the table
In 1940, Franciszek Kobus and his 17-year-old daughter, Janina, travelled from their Polish village of Miernów to the ancient red-roofed market town of Wiślica. Invading German troops prowled the small town's streets.

What the Kobuses went in to buy, no one remembers.

[continue reading this article]
Anna Ekiert's Bigos
These are quick and easy Syrian chicken kebabs, but the meat needs time to absorb the marinade's flavours. It's the yoghurt that makes the meat its succulence, but don't let the marinating stage go on for too long (longer than 90 minutes) as you may get woolly chicken. For the best flavour, grill these kebabs over charcoal–but they can be cooked on a gas or tabletop grill, on a grill pan, or in the oven. 
Ingredients
1

kg

sauerkraut, preferably made with salt brine (2 lbs)

water

500

g

shredded cabbage (approx half a medium head), (1 lb))

250g

smoked bacon, sliced fine (½ lb)

Lard or other frying fat, as needed

250

g

beef chuck or round, cut into 2 cm (¾-inch) pieces (½ lb)

250

g

pork shoulder or belly, cut into 2 cm (¾-inch) pieces (½ lb)

200

g

 kielbasa sausage, sliced thin (7 oz)

Handful

dried mushrooms, broken into pieces (half a 14 g packet) OR 75 g fresh mushrooms, sliced (about 250 ml or 1 cup)

2-3

garlic cloves, minced (optional)

5

prunes, chopped and rehydrated in boiling water, drained (optional)

1

bay leaf

5

ml

dried marjoram (1 tsp)

5

ml

caraway seeds, lightly crushed (1 tsp)

15-30

ml

sweet paprika (to taste) (1-2 Tbsp)

salt, to taste

black pepper, to taste
Instructions
Boil the sauerkraut in half a litre of water, uncovered for about 15 minutes. In a second pot, add the cabbage and pour in just enough water to not quite cover; boil, uncovered, until tender, 25 to 35 minutes.

As the cabbages boil, sauté the bacon to render the fat then remove the meat and set aside. Brown the pork and beef in the bacon fat, adding lard or other cooking fat, if necessary. Keep the meat with the cooked bacon and reserve the cooking juices. If you're using fresh mushrooms, sauté them (with garlic, if using).

In the larger of the two pots, combine the cabbage and sauerkraut and their cooking waters, cooked meats and their juices, sausage, mushrooms (dried or sautéed), prunes (if using), bay leaf and spices.

Bring the uncovered pot to the boil and keep it there for 10 minutes, then lower the heat and let simmer, still uncovered, for 1 hour (or longer, if you wish), stirring occasionally, being sure to add water if you think the pot boil may dry. It should be sour, but balance flavours to taste.
Notes
Variations:
All Cabbage/No sauerkraut: Instead of using sauerkraut, use a whole head of cabbage, sliced thin.
Different meats: Substitute or mix in different cuts of pork and beef (including ribs), veal, poultry or game. 
Vegetarian: Instead of meat, use 150 to 225 g (500 to 750 ml or 2 to 3 cups) of sautéed fresh mushrooms, and add carrots, potatoes, and onions.
A version of this recipe appeared in my profile of Anna Ekiert for my World of Food column for Grand Magazine (September-October 2019).