Drying out Ontario
In the days before the Ontario Temperance Act became law, newspaper articles warned about life after 16 September.
Fewer drunks, more money
A Liquor License Board report ballyhooed possible benefits for a (more) ascetic province. Temperance was already in force in the prairies (Alberta, Saskatchewan and Manitoba) and so far they experienced "increased sobriety and economy." Something to consider at the issuing of the second Dominion Loan (War Bond)—perhaps all that money that didn't find its way to the local boozer could further help the war effort.
A lager loophole
The province surprised many when it announced only three liquor vendors for all Ontario. They were all concentrated in southern Ontario (London, Toronto, and Hamilton), and thought sufficient to ensure "effective control of the authorised traffic." Under the Act, they could sell liquor to doctors, dentists, veterinarians, druggists, and those who needed alcohol for religious or scientific purposes.
According to the Act, individuals could keep liquor at home, but would have to replenish personal supplies from a dealer (usually in Quebec). The News-Record highlighted a potential loophole that let brewers and distillers to sidestep consumers from the rigamarole. In the case of beer, dealers could purchase a supply and keep it on the brewer's premises. Order in hand, the dealer instructed his agent to go to the brewery and "see the required amount is delivered" to the consumer's' home.
Keep these lists handy
The Temperance Act put the responsibility of liquor sales (for medicinal, scientific, etc purposes) on the province's druggists. Most wanted no part of it. With bars and clubs unable to sell liquor, pharmacologists feared becoming the local primary source of intoxicating spirit and scare off upstanding citizens. As a result, newspapers printed the names of the one or two pharmacologists who would carry alcohol, and lists of standard hotels, for those who needed them.
Getting ready for a dry Kitchener-Waterloo
Since Kitchener wasn't local option (see note below) prior to 16 September, no one should have been surprised to learn residents stripped local liquor store shelves. They did "a rushing business" in the weeks before temperance with one shop ringing up $11,000 (approximately $215,000—see notes on conversion) the Saturday before the new rules took effect.
More money, less beer
Meanwhile, The Telegraph ran a story based on the New York Board of Health's newsletter article on who drank and what they drank. Married men were more likely than single men to spent time at the bar. There was little follow-up to find out why, but the writer quoted a "philosopher who has stood behind the counter for 30 years," as the subject matter expert. The aproned man surmised married men were "afraid to go home." The article pointed to correlations between working hours and bar time, and income and beer consumption: the longer the day, the longer the time at the bar, and the more a man earned, the less likely he'd drink beer.
Oldies need not apply
With the city's name settled, The Telegraph seemed to try to stir up a new controversy: the identity of new licensing inspector. As part of the changes, the province decided to do a slight overhaul of the liquor inspection system. Instead of hiring more inspectors, they decided to cut the number to 68, to enforce the new drinks laws in Ontario.
Waterloo County's inspector's identity was kept under wraps until the last possible moment. The current inspectors—one in North Waterloo and one in Hespeler—would be off the books by 7pm on the 16th. They also gave the county the distinction of having two of the province's oldest inspectors. Hespeler's 74-year-old Inspector Knowlen tendered his resignation (he thought it a good time to retire). North Waterloo's Inspector Walter was unlikely to be appointed because he was over 80 years old and the role would force him to travel to every corner of the county. Besides, "the Ontario License Commission has recommended that inspectors be appointed who are in the prime of life and who will devote their entire time to the work."
16 September 1916: "After today, there will be no bars, no clubs, and not shops in Ontario selling liquor as a beverage."
The morning temperance took effect, Toronto announced Joseph Winterhalt as the new county inspector. The 63-year-old Winterhalt was a cigar maker and knew the local hotels well. "His duties will be unusually onerous in a county, the greater part of which is not sympathetic with the new Act."
His appointment "came as a big surprise, particularly in [the] Conservative [party's] circles. It is known that that Mr Winterhalt has not been a very active work in the ranks in recent elections, compared with the others who have worked night and day for the party."
7 pm: "Customers may now slake their thirst with temperance beverages."
John Barleycorn passed away in Ontario at 7 pm. According to the Temperance Act, Ontario would remain dry until electors could have their say in June 1919. This would happen with two big ifs: if the war was over and if the soldiers returned home. A myriad of rules that came into effect governing who could sell liquor, why it could be purchased, how much they could get, and where it could be stored (it could be kept in private homes, but not in unlicensed premises). Anyone charged with an offence seemed to be assumed guilty, with the onus on him or her to prove otherwise.
Bars closed without a fuss
It must be said, to the credit of our citizens that no disturbances of any kind marked the closing of the bars. Business may have been a little more lively than on other Saturdays, but the increased consumption was due more to the hotelkeeper being anxious to get rid of his liquor before closing hour than anything else.
Notes
About the Canadian temperance movement:
In the 19th and early 20th centuries, Canadian temperance societies were part of an international movement that called for moderation (or full abstinence), because followers believed drink was at the root of many of society's ills. "Temperance" encompassed a broad spectrum of alcohol restriction, from temperance to abstinence to prohibition. As it grew in Canada, schisms formed along religious and language lines—English Protestant societies generally argued for full prohibition, while many French Catholic societies favoured restriction in the liquor trade and thought an outright ban was extreme.
As the movement grew in Canada, schisms formed along religious and language lines—English Protestant societies generally argued for full prohibition, while many French Catholic societies favoured restriction in the liquor trade and thought an outright ban was extreme.
The Canada Temperance Act (1878) let communities decide whether or not they would ban alcohol sales. Those that went dry were known as "local option" communities.
The movement steadily grew and pretty much reached its zenith during WWI. Campaigners recast temperance in a patriotic light, and argued it would save resources (labour, grains, fruit, shipping, etc.) for the war effort. By the end of 1916, all provinces except Quebec prohibited alcohol sales; Quebec (temporarily) banned retail distilled liquor sales in 1919.
The temperance movement was also notable because it allowed women to get politically involved at a time when they were denied full citizenship—they couldn't run for office or vote (some landholding women could vote for school board positions). The local option campaigns gave activists experience in organising and campaigning for social reform. Many temperance unions and activists supported the suffrage movement.
Want a bit more information?
The Recipe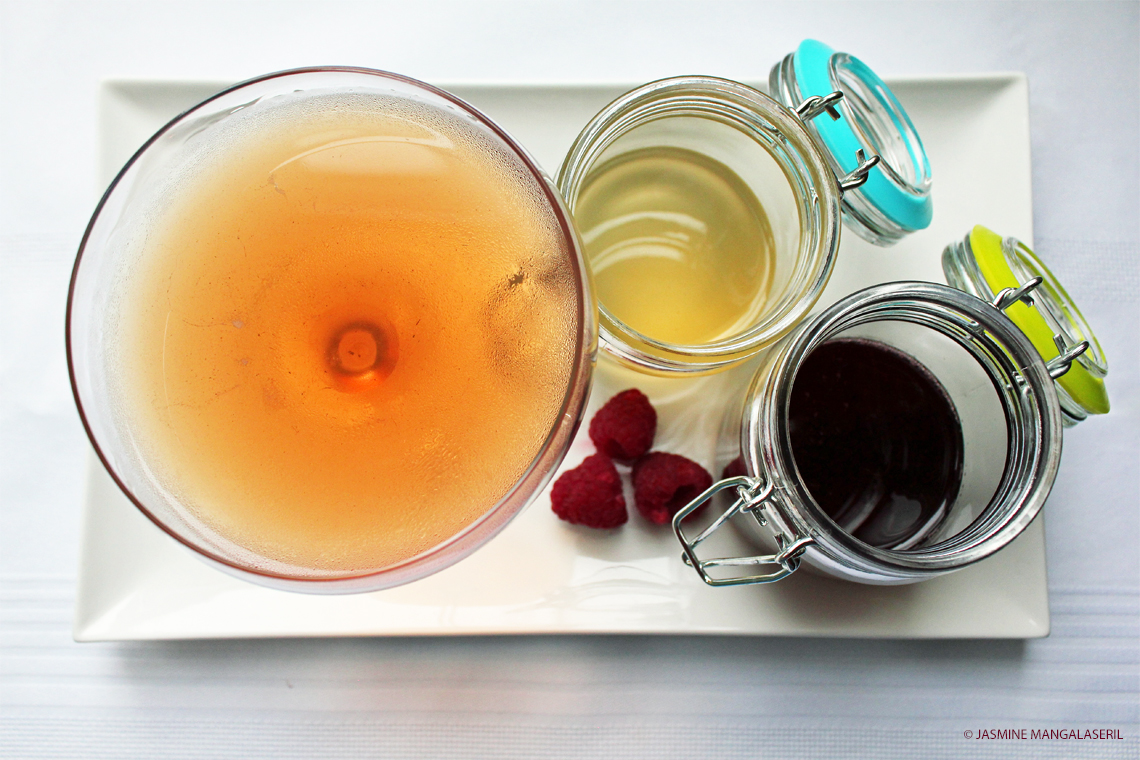 Quite honestly, I don't know how much of a cocktail town Kitchener was in 1916, but I thought this a good opportunity to explore an Edwardian-era cocktail.
The Flash of Lightening (I suspect it was supposed to be "lightning") is an easy recipe that provides an opportunity to make some syrups. They take little time to make and can be kept in the fridge for a few weeks to souse cakes, pour on ice cream, make fizzy pop or more mixed drinks. You could buy them ready-made, but why?
Flash of Lightening (from Edwardian Promenade)

A wine glass of brandy; half a teaspoon of gingerette; tablespoon of raspberry syrup. Shake well with ice, and strain.
Flash of Lightning (Modern Equivalent)
Yield: 1 cocktail
| | | | |
| --- | --- | --- | --- |
| 60ml | 60ml | 2 oz (4 Tablespoons) | Brandy |
| 2.5ml | 2.5ml | ½ Teaspoon | Gingerette (recipe follows) |
| 15ml | 15ml | ½ oz (1 Tablespoon) | Raspberry syrup (recipe follows) |
| | | | Ice (for the cocktail shaker) |
Pour all ingredients into a cocktail shaker with some ice. Shake well, and strain into a glass.
Gingerette (Ginger Syrup)
Yield: About half a cup
| | | | |
| --- | --- | --- | --- |
| 60g | 90ml | 6 Tablespoons | Peeled ginger, thinly sliced |
| 105g | 125ml | ½ Cup | Sugar |
| 125ml | 125ml | ½ Cup | Water |
Stir all ingredients together over medium-low heat until the sugar has dissolved. Gently simmer for 30 minutes.
Remove from heat and let the solution cool to room temperature.
Strain through a sieve and decant into a jar.
Store any unused syrup in the refrigerator.
Notes
Don't throw away the cooked ginger—it makes lovely candy (either stored in heavy syrup or dried).
Raspberry Syrup
Yield: About half a cup
| | | | |
| --- | --- | --- | --- |
| 190g | 375ml | 1-½ Cups | Raspberries |
| 200ml | 200ml | ¾ Cup + 1 Tablespoon | Water (as needed) |
| 85g | 100ml | 6-½ Tablespoons | Sugar |
Cover the raspberries with water and boil hard for 5 minutes. Lower the flame and simmer for 20 minutes. De-scum as necessary
Pour the contents through a sieve into another pot and discard the solids. Do not push the now pallid flesh through the sieve as that will make the syrup cloudy.
Stir in the sugar until dissolved, then simmer for about 5-7 minutes (de-scumming again, as necessary).
Decant into a jar. Cool to room temperature before using.
Store any unused syrup in the refrigerator.